Be sure to stop by the Biloxi Visitors Center!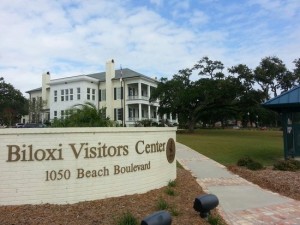 The Biloxi Visitors Center, which opened in July 2011 in the shadow of the Biloxi Lighthouse on U.S. 90, fuses the city's architectural heritage with state-of-the-art technology and multi-media exhibits to give visitors and residents alike a feel for the Biloxi of yesterday and today.
Besides offering a wealth of information about visitor amenities in Biloxi, the visitors center is also a museum of sorts, housing nearly a dozen multi-media exhibits that tell the story of Biloxi, its people, its connection to the water and its cultural diversity. You'll find a gift shop offering all sorts of Biloxi memorabilia, with many of the items created by local artists and craftsmen.
Among the attractions on the second floor is a 67-seat movie theater with continuous showings of the 10-minute film "We are Biloxi." And stepping out onto the second-floor porch, you'll be eye level with the beacon of the Biloxi Lighthouse, enjoying the cool breezes off the Gulf of Mexico, or soaking up the panoramic view of the Biloxi beach and Mississippi Sound.
The center is located approximately one mile east from our condo on Beach Blvd.
One Response to "Biloxi Visitors Center"